2nd Miami World Music Festival Announced!
May 22, 2013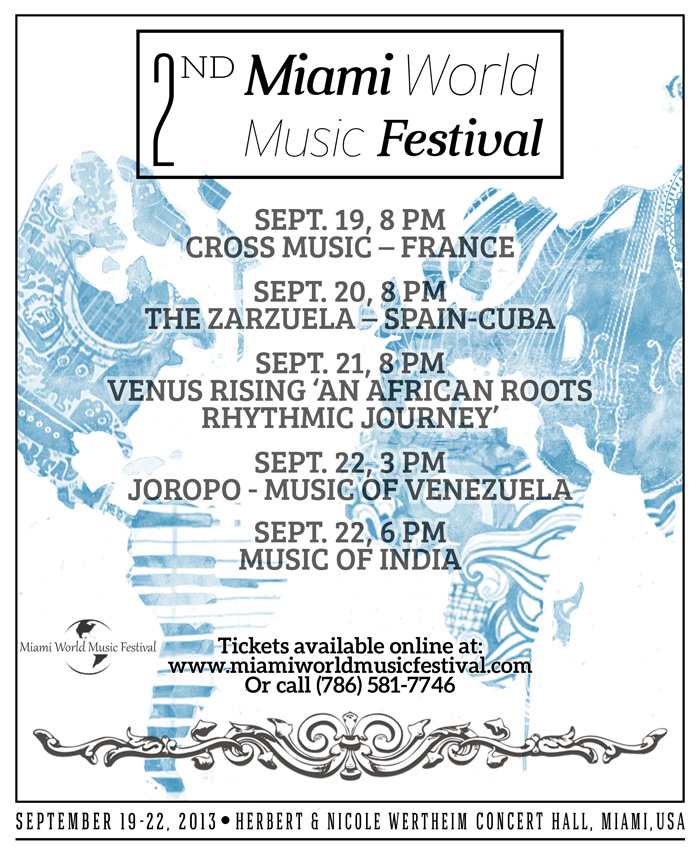 The 2nd Miami World Music Festival announces its lineup of concerts and international artists for 2013. The Festival will present 5 concerts from Thursday, September 19th to Sunday the 22nd of 2013 at the acoustically superb Wertheim Concert Hall at FIU South Campus. Opening concert showcases Cross-Music from France, with the compositions of French composer Claude Bolling, and includes selections from the suites for flute/jazz piano trio and guitar/jazz piano trio, to conclude with the 'Picnic Suite' with all instruments together. Artists for this performance include Grammy award winner flutist Nestor Torres, guitarist and newly appointed University of Miami director of guitar studies, Rafael Padron and Festival's founder, professional pianist Adolfo Vidal.
The second concert will be 'Estampas de Zarzuela', presenting a selection of the most well-known romances and duets of the beautiful Cuban zarzuela "Amalia Batista' and Spanish zarzuela 'Luisa Fernanda' and other surprises from the genre. The all-star cast is made up of sopranos Hilda del Castillo and Raquel Rubi, tenors Jose Antonio Navarro and Jesus Brañas, baritone Nelson Martínez (from Florida Grand Opera), among others. All accompanied by lhe exceptional musicians of the Miami Chamber Players.
Venus Rising will be on stage on Saturday the 21st for the third concert of the Festival. The group is a truly magical blend of feminine energy that is highly explosive & powerful as well as soothing to the soul. This talented all-female percussion & dance ensemble will explore West African, Caribbean and Middle Eastern Rhythms & Movements. Two performances on Sunday September 22nd conclude the Festival, at 3 pm 'Music of Venezuela' and 6 pm 'Music of India'. Renown Venezuelan singer and song-writer Luz Marina and her group Menage will be performing her own and traditional Venezuelan music, with guest artist Saul Vera on the bandola llanera (a stringed instrument from the lute family played in the Venezuelan plains since the 16th century).
Festival's conclusion pairs the sensational Jeff Deen, tablas and violinist Vicki Richards in an evening of Indian classical raga, a system of music born out of sacred devotional healing music. Each "raga" (melodic scale) and "tala" (rhythmic cycle) has a different healing effect on our minds and bodies. Two such artists come together this evening to share their skills and open hearts through Indian classical music.
Tickets for the Festival are now available. The subscription price for all five concerts is $100/$140 (preferred seating). Individual concert tickets are $25/$35† and students are $15. All concerts will begin at 8 PM, Sunday 3 and 6 PM. For complete program information and to purchase subscriptions and individual tickets please visit www.miamiworldmusicfestival.com or call (786) 581-7746