Grammy award winner Nestor Torres joins 2013 Festivals roster
July 23, 2013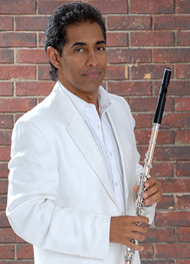 MIAMI – Latin Grammy winner Nestor Torres has joined the roster of artists for the 2nd Miami World Music Festival. He will be performing the suite #2 for flute and jazz piano trio of Claude Bolling, as well as several movements of the Picnic suite for flute, guitar and jazz piano trio by the same composer.
Born in Mayaguez, Puerto Rico, Torres moved to New York City as a teenager and attended Mannes School of Music in New York City, as well as Berklee College of Music and the New England Conservatory of Music in Boston. It was then, while playing in New York City's Latin Dance Clubs, that he learned to improvise in the style of charanga, which helped to shape and develop Torres' melodic and danceable sound.
In 1981, Nestor moved to Miami, where he continued to develop his unique sound. He has performed and recorded with the likes of Ricky Martin, Tito Puente, Herbie Hancock, and Gloria Estefan.
Torres has recorded 13 CDs to date. His 5th & 7th records, Treasure of the Heart and My Latin Soul, were nominated for a Latin Grammy, and his production This Side of Paradise won the Latin Grammy award in the pop instrumental category. His most recent production, 'Nouveau Latino', was also nominated for a Grammy and Latin Grammy in the Latin Jazz category.