Miami World Music Festival Opens with Claude Bolling Suites Feat. Nestor Torres Sept 19, 2013
August 28, 2013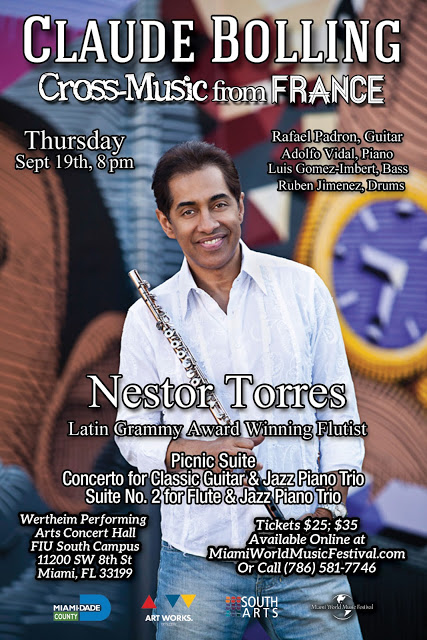 Jazz & Blues Florida
http://jazz-bluesflorida.blogspot.com/2013/08/miami-world-music-festival-opens-with.html
Claude Bolling Suites for Flute & Guitar
Cross-Music from France
Miami World Music Festival concert opener presents Cross-Music from France, with the compositions of frech composer Claude Bolling that include selections from the second suite for flute/jazz piano trio, the concerto for classical guitar and jazz piano trio, to conclude with the 'Picnic Suite' with all instruments together. As a pianist, composer and band leader, Bolling's activities range from original soundtracks and other music composition to concerts. He is an internationally famous jazz musician and is certainly the most appreciated French jazz musician around the world, particularly in the U.S.A where he has obtained a Platinum Record for his crossover music compositions (music compositions that appeals to both classical and jazz players).
Artists for this performance include Grammy award winner flutist Nestor Torres, Cuban guitarist and newly appointed University of Miami Frost School of Music director of guitar studies, Rafael Padron; Contrabass instructor at FIU school of music, Luis Gomez-Imbert, Ruben Jimenez on the drums, and Miami World Music Festival's founder and Royal Conservatory of Music alumni, pianist Adolfo Vidal.
Thursday, September 19, 2013 ~ 8pm
Wertheim Performing Arts Concert Hall
FIU South Campus
11200 SW 8th Street, Miami FL 33199
www.miamiworldmusicfestival.com or (786)581-7746
The Suite for Flute and Jazz Piano Trio (piano, string bass and drums) is a mix of Baroque elegance with modern swing, has been a top seller for many years, and was followed up by other works in the same vein. It was particularly popular in the United States, at the top of the hit parade for two years after its release and on billboard top 40 for 530 weeks, roughly ten years.
Concerto for Classical Guitar & Jazz Piano is one of the best manifestations of Bolling's personal solution to the perennial Third Stream puzzle, incorporating Spanish ideas into the guitar part, moving his piano in and out of the jazz rhythms with an easy Continental elegance, coming up with attractive pastiche tunes in the baroque and classical idioms.
The Picnic Suite for flute, guitar and jazz piano trio is a superbly inventive, beautiful composition of music where the flute and guitar complement the piano perfectly, that's somewhere in between jazz and classical. Critics have a hard time to describe it, but it's absolutely addictive! Perfect music for a relaxed 'Picnic' Sunday afternoon.
OTHER FESTIVAL PERFORMANCES
Series Subscription Tickets Available
Friday, September 20, 2013 ~ 8pm
Estampas de Zarzuela
Music of Spain/Cuba
Saturday, September 21, 2013 ~ 8pm
An African Roots Rhythmic Journey
Venus Rising
Sunday, September 22, 2013 ~ 3pm
Luz Marina & Menage
Music of Venezuela
Sunday, September 22, 2013 ~ 6pm
An Evening of Indian Classical Music
Jeff Deen & Vicki Richards
The Miami World Music Festival was created by South Florida Friends of Classical Music, a non-profit organization to encourage and support classical music performances and the musical heritage of countries around the world. The annual Festival features academic, traditional and contemporary music from diverse cultures performed by acclaimed world-class artists.