3rd Miami Music Festival from around the World
September 11, 2014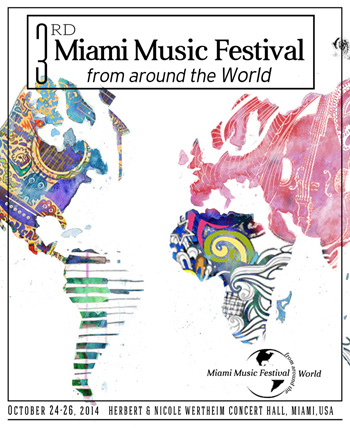 MIAMI, FL - 09/10/14 -
The 3rd Miami Music Festival from around the World (formerly known as Miami World Music Festival) announces its lineup of concerts and international artists for 2014. The Festival will present 4 concerts from Friday, October 24th to Sunday the 26th of 2014 at the acoustically superb Wertheim Concert Hall at FIU South Campus.
Embark on an international sonic adventure at the third-annual Miami Music Festival from around the World, where four wildly different shows offer an exciting sample platter of global sounds. At the opening concert "Two Pianos & Percussion," virtuoso pianists Michael Linville & Adolfo Vidal join percussionists from the New World Symphony to play the sonata for two pianos and percussion by the great Hungarian composer Bela Bartok as well as contagious avant-garde tangos by Argentina's Astor Piazzolla.
Venus Rising is back! After a sold out performance last year they will present a whole new show called "One Pulse -- Many Beats," you'll feel your spirits lift to the multi-ethnic women's drum and dance ensemble Venus Rising, who explore the rhythms, movements and songs of West Africa, the Caribbean, Brazil and the Middle East.
Or, you might want to slow things down a little at "Women in Opera," featuring some of the form's most ravishing duets, trios and arias sung by a quintet of world-class sopranos and mezzo-sopranos.
Lastly, the Festival reaches its dynamite conclusion with the "Monster Piano Explosion," a marathon recital featuring solos, dueling pianos and four-handed throw-downs by more than 20 of southern Florida's most accomplished professional pianists. Whether you see one or all of these excellent events, your horizons will expand and your ears will thank you.
Tickets for the Festival are now available. The subscription price for all four concerts is $100/$150 (preferred seating). Individual concert tickets are $25/$35 and students are $15. All concerts will begin at 8 PM, Sunday 3 and 6 PM. For complete program information and to purchase subscriptions and individual tickets please visit www.miamiworldmusicfestival.com or call (786) 581-7746